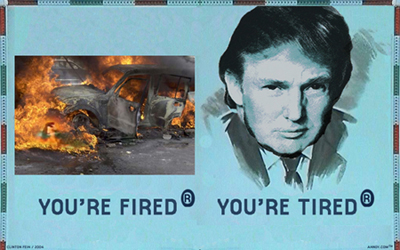 Let me get this straight.
Donald Trump, quite possibly the ugliest man I have ever seen, is lashing out at Rosie O'Donnell after she criticized him, quite justifiably, after he presented himself as a moral authority and oh so graciously allowed the scandalized Miss USA, Tara Conner, a "second chance" to hold on to her crown.
First, a bit of perspective. For those with heads in the sand, and who have missed the late night talk shows – The Daily Show, Colbert Report etc. – Miss USA and former Miss Kentucky, Tara Conner, was rumored to be losing her crown following allegations of underage drinking, bump after bump of cocaine and plenty of bisexual encounters (including Miss Teen USA).
O'Donnell, calling it the way it is, said on The View: "Because his show 'The Apprentice' is starting again in January, he held a big press conference to see if he was going to allow Miss USA, such a prestigious title." As for the notion of a second chance, O'Donnell scoffed: "There he is, hair looping, going everyone, everyone deserves a second chance…He's the moral authority? Left the first wife, had an affair, left the second wife, had an affair, had kids both times, but he's the moral compass for twenty year olds in America. Donald, sit and spin, my friend."
In response to O'Donnell's snipe Trump used Access Hollywood to call her a "big, fat loser," threatened to sue her, and twice warned her to watch her girlfriend, mouthing this gem: "...she ought to be careful because I'll send one of my friends to pick up her girlfriend and I think it would be very easy."
I'm not a lawyer, but I would be fascinated to know on what grounds Trump plans to sue her.
Because she mocked his atrocious hairstyle? Because she mocked the prestige factor of Miss USA, calling it a model competition and joking "They have one question in Miss USA, yeah and they're like 'I'd like to cure cancer and end world hunger – and then I'd like to go to Studio 54 and do some crack." Or is it because she disdained the audacity of Trump's positioning of himself as a moral authority as much as I do?
I'm not quite Rosie, and thus won't be (nor can be) sued for saying what I think, so here's my little two cents on the whole saga.
Tara Conner's behavior as Miss USA, assuming all the allegations are true, is perfect as far as realistically representing America. Just ask Paris, Britney or Lindsay about what behaviors are glamorized and garner magazine covers. I find the over-sized crown weighing down Queen Elizabeth's head at the opening of parliament ceremonies corny, so attaching a modicum of seriousness to Trump's nouveau riche, gaudy imitation is beyond me.
Donald Trump, who looks as if a plastic surgeon constructed his fat, pouting lips using the excess skin hacked from Sylvester Stallone's face, should know, of all people, that looks aren't important when it comes to securing a partner. Surely he doesn't think Ivana, Marla or his latest conquest, Melania, married him because he looks like a badly botched combination of Tim Russert and Rush Limbaugh, not in spite of it. For Trump to be judging people on their looks is as ludicrous as Rupert Murdoch trumpeting the virtues of journalistic integrity, or Linda Tripp admonishing people for privacy invasions.
I, for one, resent Buttface parading a tearful Conner -- exploiting her situation and humiliating her with his self-righteous condescension and holier-than-thou declaration of redemption. All for the sake of publicity to feed his over-bloated ego and the tacky, misogynistic cattle parade he calls a beauty pageant.
Careful Donald.
No matter how much older and uglier you get, people will still pretend you're attractive, so long as you've got money. Or be too scared to tell you anything the way it is. The only thing most of us never realized is that you were stupid enough to actually fall for it.
At least you are smart enough to realize that a friend, and not you, would stand a remote chance of picking up Rosie's girlfriend.