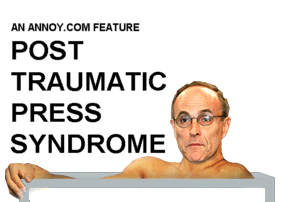 Post Traumatic Press Syndrome can be characterized as a state of media acquiescence in the face of the curtailment of civil liberties. Often contagious it is as self-propagating as anthrax spores and ultimately as deadly. Journalists operating at the behest of corporate media entities are usually most vulnerable.
Symptoms typically include an almost dazed inability to seek answers relying instead on regurgitated propaganda. Stricken victims sit stupefied and mute in press conferences as foreign journalists ask the tough questions. The broadcast strain can be identified by talking heads pointing earnestly at obscure green images they have been told are night vision videos, but cannot be sure. Dazzling graphics and catchy tag lines, such as "America Strikes Back," invariably mask the severity of the syndrome, but it is nothing short of a dangerous and fatal down spiral from which there is little hope of turning back. This feature is dedicated to keeping tabs on it.
November 12, 2001
Post Traumatic Press Syndrome: The Full Story
By Clinton Fein
In the wake of the September 11 attacks, Artforum, New York's prestigious art magazine pulled an advertisement for an annoy.com exhibition. The advertisement consisted of an image displaying a purse-lipped Rudy Giuliani sitting naked in a urine-filled glass box, referencing the technique used by artist Damien Hirst and part of an exhibit Sensation that resulted in the former mayor withholding funding from the Brooklyn Museum of Art. Clutching a crucifix with a nod to artist Andres Serrano and with another Giuliani targeted work, Chris Ofili's Virgin Mary forming the backdrop, copy on the top of the image reads: "Mike for Mayor" and at the bottom, "Start Spreading the News." They would later give conflicting reasons for the decision that day veering between operational and ideological justifications. We would only learn of this decision the following Monday when it was too late to do anything about it.
November 11, 2001
In the War on Terrorism, A Battle to Shape Public Opinion
By Elizabeth Becker, New York Times
Thus far, news organizations' only response has been increasingly frustrated questioning of the policy in weekly meetings with Victoria Clarke, the chief Pentagon spokeswoman. No unified challenge has been made by top editors, broadcast news presidents or publishers.
Some news executives, in fact, are as worried about public opinion as they are about the government's lid on information. Walter Isaacson, the chairman of CNN, recently issued a memorandum saying that reports about civilian casualties in the bombing campaign must be balanced with mention of the Sept. 11 attacks.
November 10, 2001
War Is Heck
Frank Rich, New York Times
Because of one major dissimilarity with Vietnam — journalists have far less access to what is happening in Afghanistan than they did to the incipient quagmire in Southeast Asia — such conclusions are speculative. But it's easy to make the case that one similarity between Vietnam and the war on terrorism is already nailed down: the light-at-the-end-of- the-tunnel syndrome. Much as Mr. Thompson defied scientific reality to portray the first skirmish with anthrax as an isolated incident, so the military seems inclined to sugar- coat the war against Al Qaeda — even when what few facts we have stand in the way.
November 10, 2001
US appoints terror war spin doctor
BBC quoting London-based Arabic paper Al-Hayat
The intervention by the US and British governments in the media services and dissemination of information to people endangers the future of political and civil freedoms," said an article in Al-Hayat published on Saturday, "not only in the United States and Britain, but also in all the countries in the world.
"This step will... encourage undemocratic regimes to continue to control the press and media and justify for these regimes the continued existence of information ministries and political propaganda mouthpieces."
Wednesday November
Al-Jazeera TV faces ban for inciting hatred
By Sean O'Neill, The Daily Telegraph, UK


The Independent Television Commission is monitoring al-Jazeera's output and will today examine the content of bin Laden's weekend video, in which he urged Muslims to wage religious war on the "infidel". On the ITC's advice, the Government can proscribe any channel that is guilty of incitement to hatred.
October 28, 2001
Magazines Fly the Flag, Offering Upbeat Chic
By Ruth La Ferla, New York Times
But tellingly, the new fashion features hurriedly conceived to capture the moment all strike a resolutely upbeat chord. On the Vogue cover Britney Spears stretches languorously atop the Stars and Stripes, a pose that Ms. Wintour said is meant to evoke Betty Grable rallying the troops in World War II. "We acted on pure instinct and decided to jump in as fast as we could," she said.
October 19, 2001
British media start asking questions
By Dan Strieff
Even the best of friends can sometimes be taken for granted. Now nearly two weeks into the U.S. war on terrorism, cracks are appearing in the united front demonstrated by the British media, which had rallied behind Prime Minister Tony Blair's alliance with Washington.
October 18, 2001
Courage that goes to the heart of a free press
By Kim Campbell, The Christian Science Monitor
The ruling regime has little tolerance for criticism and regularly questions newspapers about their content. Since 1999, Abbas's publication has been suspended and banned, and she has been jailed several times as punishment for articles appearing in the paper, including stories about the misuse of public funds.
She was unable to come to the US to receive her award, but has told the IWMF that threats won't keep her from a profession that serves humanity. Despite government bullying, she says her paper reports what's true, fights corruption, and demands democracy and freedom.