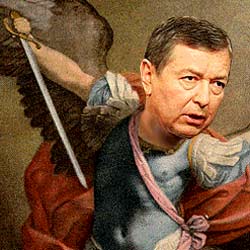 One of the most dramatic battles between federal and state governments -- and a painful illustration of how drug prohibition cripples human dignity -- is brewing in Oregon, where a federal judge recently issued a court order to block U.S. Attorney General John Ashcroft from interfering with the state's physician-assisted suicide law.

(Declaring that physician-assisted suicide "was not a legitimate medical purpose for prescribing drugs," Ashcroft -- who earier had promised to uphold federalism over federal encroachment upon the states -- had threatened to have the medical licenses of participating doctors revoked.)

Many civil libertarians, understandably, see Ashcroft's threat as a direct assault on human dignity in a matter too private and sensitive to allow government interference between doctor and patient.

However, according to psychiatrist Thomas Szasz (member, Independent Institute Board of Advisors), the fundamental problem is that our laws make it unlawful to use lethal drugs to commit suicide -- except, as in the case of Oregon, when it is physician-assisted, and even then only under limited circumstances.

In other words, no matter how painfully one may suffer from a terminal illness, one's ultimate choice must be prescribed by a physician.

Undoubtedly, this needlessly prolongs the suffering and anguish of those law-abiding sufferers who decide that waiting for nature to take its course is too long and too painful.

Drug and suicide law reform, however, would help restore genuine dignity to those suffering from unspeakable pain. "Physician-assisted suicide," writes Szasz in a new op-ed, "is but one of the consequences of our drug laws."

By expanding their range of lawful options, drug and suicide law reform would enable the terminally ill to take matters lawfully into their own hands without interference from the state. It would also help lift the burden from physicians struggling to interpret the Hippocratic Oath.

"The American people are ceaselessly propagandized about the real dangers from which drug prohibitions are intended to protect us," Szasz concludes. "The damage the prohibitions cause are glossed over in silence or, more often, are unrecognized. We avoid confronting problems of living as moral problems and choose instead to treat them as medical problems. It is not a good choice."


Carl P. Close is Academic Affairs Director for The Independent Institute and Assistant Editor of The Independent Review. His articles have appeared in The New York Times, San Francisco Chronicle, Consumer Finance Law Report, and other publications. He is also Editor of The Lighthouse, a weekly e-mail newsletter of The Independent Institute.

This piece originally appeared in the November 26, 2001 issue of The Lighthouse. Republished with permission.