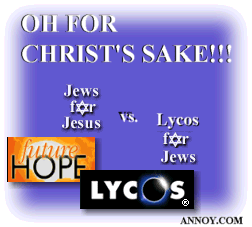 In a move that has many content providers shaking their heads in astonishment, Lycos, a highly trafficked Internet search destination, a few weeks ago refused to renew an advertisement from the San Francisco based organization, Jews for Jesus, because of "complaints from some in the Jewish community".
Jeffrey Snider, general counsel for Lycos reportedly told The Boston Globe that the ad was being pulled in response to complaints from some Jewish customers, although the number of complaints received was not released.
In the age of Matt Drudge and Salon, the credibility of online journalism continues to face an uphill battle. The rejection of an advertisement that is not in poor taste, that does not promote hate or violence, but simply offers a point of view potentially offensive to a small minority, makes the task all the more difficult.
According to an Associated Press report, Diane Kolb, associate director of the Boston chapter of the Anti-Defamation League's (ADL), said she believes the message is misleading and blasphemous. "Jews can't be for Jesus,'' she is reported to have stated.
Susan Perlman, a spokesperson for Jews for Jesus told annoy.com that the group is "disheartened that Lycos has decided to suspend the First Amendment when it comes to their advertising policy."
Laissez fair party line
While strictly speaking the First Amendment does not require private corporations to publish or transmit any material, editorial or commercial, some industry experts were puzzled by Lycos' decision and wonder how the company plans to articulate a policy or define the criteria by which an advertisement is deemed blasphemous or that favors some religions or belief systems over others, with any degree of consistency.
Paul Tash, deputy chairman of St. Petersburg Times and a spokesperson for the American Society of Newspaper Editors, the nation's oldest and largest newspaper editors group told annoy.com that he had not heard of the dispute nor had seen the advertisement in question, and thus was unable to comment on its suitability or tastefulness. "Journalism and publications have a particular obligation to make their advertising available to a variety of groups, especially those who would receive little or unfavorable editorial coverage," he said. "We all have, as proprietors, the right and obligation to make determinations as to what is appropriate", he added.
Interestingly, Tash said that he was not sure whether Lycos characterized itself as a news organization. Which begs the question, as to whether Wired News, a subsidiary of Lycos' acquisition Wired Ventures, would reject an advertisement for the same reasons as its parent - that it would offend their Jewish readers.
Declan McCullagh, of Lycos' Wired Ventures, and who runs a moderated mailing list on politics and technology that frequently focuses on issues pertaining to free speech and technology was uncharacteristically tight-lipped on Lycos' refusal to renew the ad and refused to respond to questions from annoy.com.
More disturbing is that in an IPO landscape increasingly defined by mergers and acquisitions, companies that arose as simple search engines or portals have acquired content properties they originally merely pointed to, including electronic news offerings, and as such seem inadequately equipped to adhere to the journalistic standards and principles that govern traditional media.
"We hoped that Lycos would not succumb to pressure tactics from a small minority of the Jewish community who don't want other Jews to have the opportunity to think for themselves," said Jews for Jesus' Perlman. "Our banner is easily passed over or clicked on...what are people afraid of?"
* Disclosures: For over two years, annoy.com has been the highest rated Political Humor web site on Lycos' Top 5% of all web sites. Wired News' coverage of annoy.com's legal battles has, for the most part, been fair, accurate and balanced. We hope this piece changes neither. We have always found Jews for Jesus rather annoying, but firmly assert their right to express their viewpoint, like any other religion – and buy ad space on search engines – especially ones that deliver proprietary news content.