NOISE

Wednesday's Page Six cartoon - caricaturing Monday's police shooting of a chimpanzee in Connecticut - has created considerable controversy.

It shows two police officers standing over the chimp's body: "They'll have to find someone else to write the next stimulus bill," one officer says.

It was meant to mock an ineptly written federal stimulus bill.

Period.

But it has been taken as something else - as a depiction of President Obama, as a thinly veiled expression of racism.

This most certainly was not its intent; to those who were offended by the image, we apologize.

However, there are some in the media and in public life who have had differences with The Post in the past - and they see the incident as an opportunity for payback.

To them, no apology is due.

Sometimes a cartoon is just a cartoon - even as the opportunists seek to make it something else.

Editorial, The New York Post, February 20, 2009
---
Rupert Murdoch's New York Post newspaper is no stranger to controversy and it's engulfed in a big one at the moment.
The paper is being criticised for running a cartoon that some people have interpreted as portraying the US President as a violent chimpanzee being gunned down by police.
Elinor Hall, ABC News, NY Post defends chimp cartoon despite racism claims, February 20, 2009
---
The latest political firestorm of the day in a country that increasingly craves, wants, desires, and thirsts for angry firestorms and controversy centers on a cartoon that ran in the New York Post. Is it racist, does it use a shocking story in the news as a take off point or does it use a story to make a point that wasn't sufficiently thought through?
To some, including the Post's management, Sean Delonas' cartoon takes a huge and sickening story in the news about a pet-gone-wild, 200 lb. chimp who virtually ripped a woman's face off and was shot by police and uses it as a take off point. These folks believe the furor raging among some activists and Internet sites is a case of something being seized on and blown way out of proportion.
To others, such as the Rev. Al Sharpton, itís blatantly racist -- comparing the author of the stimulus bill...who happens to be President Barack Obama...to a chimpanzee...truly one of the most vile racial images that has been around for years.
Joe Gandelman, The Moderate Voice, New York Postís Chimp Cartoon: Racist Or Politically Motivated PC Firestorm?, February 18, 2009
---
The original cartoon, NY Post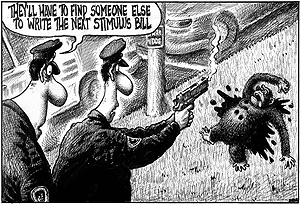 ---
David Ernest Duke (born July 1, 1950) is an American white nationalist, former Grand Wizard of the Knights of the Ku Klux Klan, former Republican Louisiana State Representative, and a perennial candidate in presidential primaries.
Duke claims he is a white nationalist. On his website, Duke denies being a racist and says he is a racial realist asserting "all people have a basic human right to preserve their own heritage." He speaks in favor of voluntary racial segregation and white separatism.
David Duke has taught a course in History and International Relations at the Ukrainian Interregional Academy of Personnel Management (MAUP). Duke has also unsuccessfully run for the Louisiana Senate, U.S. Senate, U.S. House of Representatives, Governor of Louisiana and twice for President of the United States.
---